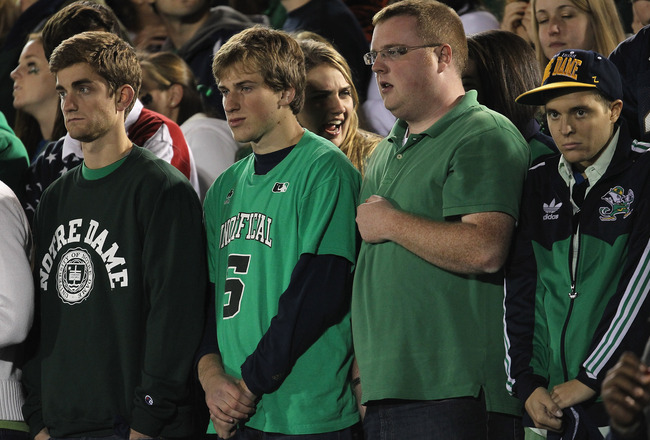 2012: A season full of uncertainty
Once the 2012 Notre Dame football season wraps up in Southern California in late November, it is not inconceivable that the Fighting Irish will have faced the Heisman Trophy winner, Matt Barkley or Landry Jones or Denard Robinson, AND the two teams contesting the BCS championship, Oklahoma and USC!
Such is the daunting task ahead of Notre Dame this season, with yet another ultra tough schedule, it is fair to say that Las Vegas are more than generous with their 50/1 price on Brian Kelly lifting the coaches trophy in Miami in January 2013.
Without doing any research while typing this piece, I'd hazard a guess that only two of the 2012 opponents that the Irish will face never made it to a Bowl game in 2011......Navy & Wake Forest.
Notre Dame does not have the luxury of taking on the minnows of the college football world like the BiG 10 out of conference schedules..........Fact: Notre Dame does
NOT
play any FCS programs.
The 2012 schedule is regarded by many
experts
as the nations toughest.
If you are an ABND (anyone but Notre Dame) fan, then drop the hating temporarily and go pick out the cupcakes from this lot:
Home Games:
BYU, Michigan, Pittsburgh, Purdue, Stanford, Wake Forest
Away Games:
Boston College, Michigan State, Oklahoma, USC
Neutral Site Games:
Navy (Ireland), Miami (FL) (Chicago)
Navy (in Ireland) ?
The Middies have won 24 games the past three seasons, and have been the best service academy team over the past 10 years by a country mile. Not to mention that the Irish might be led by a redshirt freshman in Everett Golson.
Purdue?
They won seven games last season and made it to a bowl game.
Boston College?
They put the wind up the Irish last season and are always up for a good ole religious brawl. They also managed to beat NC State and Miami, no slouches there.
Wake Forest?
Ask Florida State about the Demon Deacons. FSU have been on the losing end in four of the past six times in which they have met.
That is the "potential" cupcakes taken care of, the remainder will more than likely all grace the Top 10-15 in the polls at some stage of the season.
Yes, it is a daunting task ahead for Brian Kelly to get the Fighting Irish to a BCS bowl, and if the schedule was not enough.....you have the issues surrounding the starting QB, the inexperience of the secondary that face the top three QB's in the nation, the need for an emergence of a deep threat at the wideout position.
It's difficult for the most passionate of Irish fans to realistically look at a BCS bid giving the gargantuan task outlined above, but this stage, I'll take the Beno Cook line from last season......if Notre Dame get out of September unblemished......then look out!
Jason is owner and author of godcountrynotredame.me and writes for both IrishCentral and domersportsreport You can find Jason on twitter at @jayomahony